 
1/4 Scale Opel Rak 1
Delivered within 4 to 6 business days
Opel Rak 1 Short Kit - 2021 version!
NEW 2021 VERSION!!
The Opel Rak is the World first rocket powered flying machine!
Here, it is reproduced at 1/4 scale.
The short kit includes all the parts shown on the plans (in 2 sheets included in the kit) that need to be cut. You will have to add the strip wood (spars etc) and sheeting.
The tail booms are made of aluminum tubes (not in kit!)- See material list below for more details.
Also included in the short kit, a handy model stand (see photos).
This new version of the shortkit includes more details, accurate parts (to say the least!!). Biggest change is the wing profile, now a HQ3.5/12 instead of the good old ClarkY!
So, pretty much the same as before, but better :)
Specs:
Wingspan: 2.3m
Overall Length: 1.2m
Weight: Around 2.5Kgs
Functions: Ailerons, Elevator, Rudder - Towhook (Optional)
Wing profile: HQ3.5/12
Build log:
Videos:
View of the plan: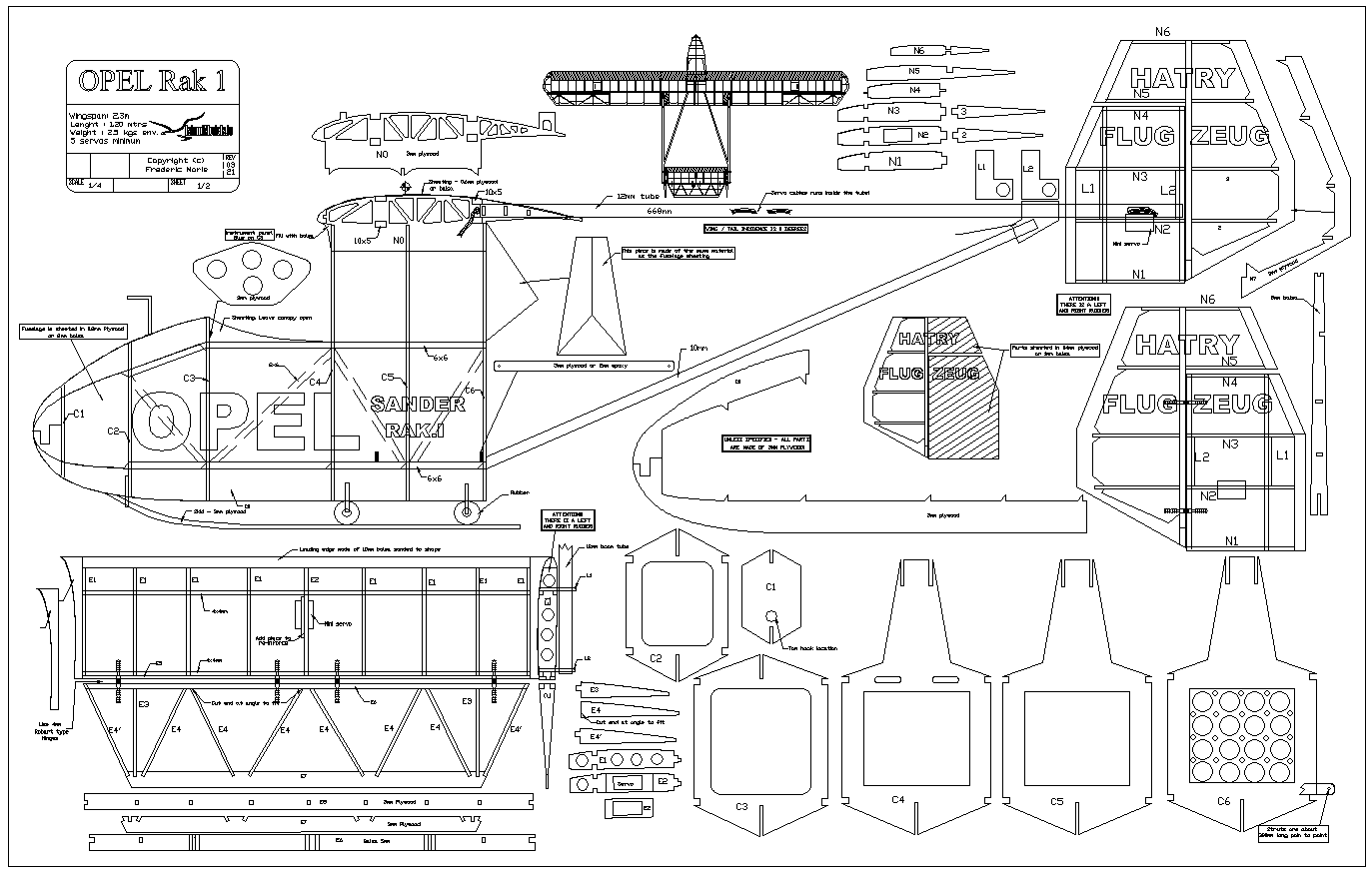 I found another supplier for the Tube joiners:
Europe:
https://www.dutchflyingobjects-shop.nl/en_GB/a-7953048/connectors-stand-off-clips/avia-connector-12-12-mm/#description
https://www.metropolis-drachen.de/en/Kite-materials/Connectors/Leading-edge-connector/APA-strong.html
USA: 
http://www.awindofchange.com/product/goo-apa-connectors.html
https://goodwinds.com/product-category/catalog/connectors/edge-connector-apa/
If someone has STL file for 3D printing that would fit, happy to discuss! :)
Material needed:
Fuselage:
Pine or Balsa strips 6x6mm: about 1.5m
Sheeting: Balsa 2mm or 0.8mm plywood
10mm diameter Tow Hook (option, hole is made in C1 former)
Wings:
Spars are made of 10x5mm balsa/pine wood: about 6m
4mm Robart type Hinges: 8
10mm tube + inside rod for wing joiner (about 50cm)
6mm rod for incidence pin (about 5cm)
Sheeting in 2mm balsa, or 0.4mm balsa (prototype)
Covering
Control horns x2
LE is made of 10mm balsa sanded in shape
Elevator: 
4x4mm balsa (about 1m)
Robart Type hinges x4
Sheeting in 0.4mm plywood or light balsa
Control horn x1
10mm balsa strip for LE (about 48cm long)
Rudders:
4x4mm balsa (about 1m)
10mm balsa strip for LE (about 50cm)
Robart type hinges x4
Booms:
Top: 12mm diameter carbon or aluminum tubes x2
Bottom: 10mm diameter carbon or aluminum tubes x2
Couplers: see links above
And a course, a few bits and bobs!
All servos on the prototype were MG14 (mini servos, metal gears). 5 needed (+ standard servo for tow hook if fitted )
What's in the kit?