 
1/3 scale Ka8b
The full size one at a glance (wikipedia) - The K 8 was derived from the earlier Ka 6 design as a simple single-place sailplane with dive brakes using construction techniques similar to the Schleicher K 7, simplified for amateur construction from kits. Emphasis was on rugged construction, good climbing ability in thermals and good handling characteristics.
The prototype K 8 made its first flight in November 1957 and over 1,100 were built in three main versions. The original K 8 had a very small canopy. Side windows for improved visibility were introduced in the next version, and the K 8B, by far the most numerous variant, has a larger one-piece blown Plexiglas canopy. The K 8C features a longer nose, larger main wheel located ahead of the center of gravity and deletion of the larger wooden nose skid resulting in a roomier cockpit.
Specs:
Wingspan: 5m
Length: 2.3m
Weight: 7.8Kgs.. Proto - Ideal weight is between 9 and 10.5Kgs, no lighter!
Wing Profile: HQ3.5/12
Functions: Ailerons, Elevator, rudder, airbrakes, tow hook (optional)
Build Logs:
Videos:
View of the plans: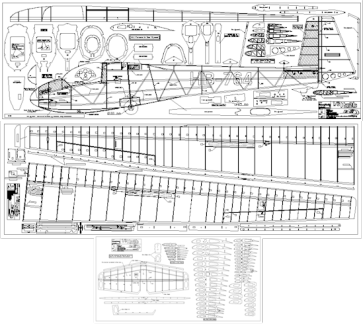 The short kit includes all the pieces shown on the plan that need to be cut (formers, ribs etc etc), plans in 3 Large sheets, canopy, airbrakes arms (3D printed or epoxy).
You will have to add the strip wood (spars etc), sheeting and the accessories of your choice (hinges etc).