1/3 Scale Ka8b
1/3 Scale Ka8b Short Kit

Ask a question about this product
The Ka8 was derived from the earlier Ka6 design as a simple single-place sailplane with dive brakes using construction techniques similar to the K7, simplified for amateur construction from kits. Emphasis was on rugged construction, good climbing ability in thermals and good handling characteristics.
The prototype K8 made its first flight in November 1957 and over 1,100 were built in three main versions. The IslandModels kit reproduce the most produced one, the Ka8b (or K8b, still debating the proper name ;) )
Although the Ka8b short kit is relatively easy to build, it will not be suitable as a first or second build model as some areas are left to the builder's choice (servo positioning for the elevator for example) and some part of the build require some experience (front part of the fuselage).
The flying characteristics are superb, and at the prototype weight of 7.8Kgs, a real floater. Ideal weight would be 9kgs to allow better penetration when the wind start to blow. Wing loading will then be around 58g/dm2. Still very lightly loaded!
Please do not hesitate to contact me if you have any questions before ordering.
Specs:
Scale: 1/3
Wingspan: 5m
Length: 2.3m
Wing Profile: HQ3.5/12
Weight: 7.8kgs (proto) to 10Kgs
Wing Loading: 50 to 65gr dm2
Plan view: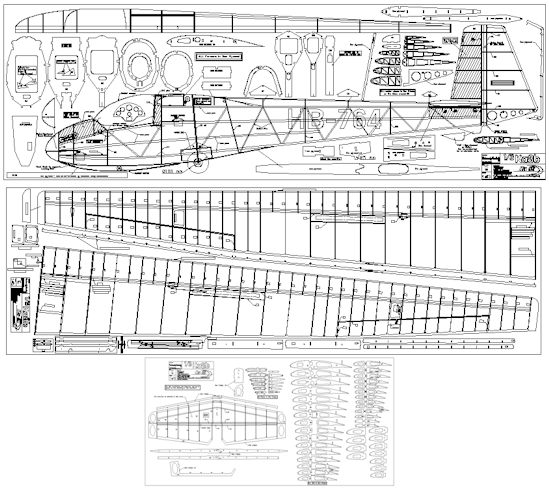 Parts view - Canopy, air brakes arms and plans in 3 large sheets are included in the kit:

Spar material: 8x8mm pine wood (doubled) or 16x8mm
Fuselage stringers: 8x8mm pine for main. 5x5mm pine for reinforcements
Wing joiners: 24mm tube (20mm rod) for main joiner. 12mm tube (10mm rod) for incidence pin
Sheeting: 2mm balsa for the wings, Elevator - 3mm balsa for Rudder, but 0.6 to 0.8mm plywood can be used (or a mix of balsa/plywood)
Covering: about 12m used to cover the prototype
Functions: Ailerons, Airbrakes, Elevator, Rudder, Tow Hook(optional)
Watch the Ka8 in flight: https://vimeo.com/98132570